The Orchard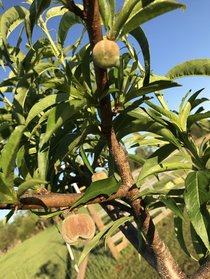 Let's plant an orchard!
In my mind, an orchard was going to be about 10 trees, a few apples, pears, and peaches. I should have known better! When James gets an idea he will spend hours and hours researching, reading all of the reviews, do some more research, get pricing from different people, does planning and more planning and magically an orchard appears. Ok, maybe not magically, but with hours of work and a lot of learning, it all started to come together.
I actually had to plot out our orchard on a visio chart - we have over 80 trees! Apples, pears, peaches and persimmons, plums, paw paws, quince, apricots, nectarines, mulberries, and a lot of the trees are in several different varieties.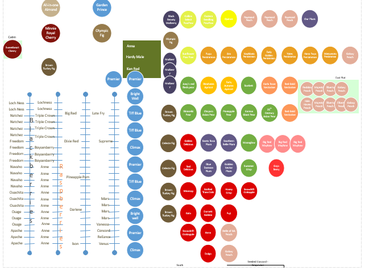 In addition to all of the trees, we have blackberries, blueberries, raspberries, figs, kiwi's.

I keep trying to figure out what in the world we are going to do with all of this fruit when it starts producing. I guess we'll figure that out in a few months...my guess is that we will eventually have either a market stand in front of our house or a u-pick.

---
The Apiary
How hard can it be to raise bees? We took courses online, we joined a local beekeepers club, James researched - we were ready, or so we thought. We purchased two hives from our beekeepers club and in less three weeks we expanded from two colonies to six colonies!
This has been a challenging adventure but we know eventually we will be able to reap the rewards of our efforts - honey, beeswax and an incredibly pollinated orchard.
​
---
The Photo Gallery
---